News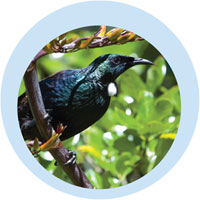 This area of our website shares updates and news relevant to suicide prevention in New Zealand. To keep up to date with the latest news, events, research and resources, you can:
The news in this section is provided for your information - links to external events, websites and resources do not imply endorsement by the Mental Health Foundation. Read our website disclaimer.
---
News archive: 2013 | 2012 | 2011 | 2010 | 2009 | 2008
---
February
New YouTube video collection on technology and suicide prevention
The SPINZ YouTube channel includes a new playlist of videos about how social media, mobile phones, video games and other digital technologies can be used within suicide prevention.
The collection shares discussions about the use of social media for suicide prevention and how different platforms deal with suicidal searches and behaviour, and examples of how blogs, games and e-therapy tools are being used to create connection, treat depression and prevent suicide
The SPINZ channel also includes playlists on suicide prevention within Māori communities, Pacific communities and rainbow communities, and a collection about the experience of grief and bereavement related to losing someone to suicide. We add to these playlists as we discover relevant content on YouTube - you can subscribe to the SPINZ YouTube channel to see the latest additions.
Read more about how to help someone online if they are writing about self-harm or suicide, and other resources on internet technologies and suicide prevention.
---
Feedback sought on research priorities for Māori and Pacific suicide prevention
New national service Waka Hourua has released a draft Strategic Research Agenda outlining priorities for Māori and Pacific suicide prevention research, and is inviting public feedback.
The draft Agenda, Te Ra o te Waka Hourua aims to build the evidence base of what works for Māori whānau, hapū, iwi, Pacific families and communities to prevent suicide. It sets out a framework for the research Waka Hourua will fund and facilitate in four different priority areas:
Māori and Pacific Development
Cultural Identity
Supporting Recovery
Cultural Knowledge
The draft Strategic Research Agenda is now available for review and feedback by 26 February 2014. Feedback will help to inform the final Strategic Research Agenda and the priority funding areas for a one-off research fund, which will be made available in April 2014.
---
Suicide Mortality Review Committee Call for Nominations
The Health Quality & Safety Commission Board is seeking up to four members to participate in a time-limited Suicide Mortality Review Committee. Nominations close on Thursday, 6 March 2014 at 5pm.
Collectively, members of the Committee will have the following expertise:
knowledge of mortality review systems
knowledge of suicide and suicide prevention
knowledge of Māori suicide issues
knowledge of suicide issues from a service user / family perspective
knowledge of the specific sub-groups chosen for this suicide mortality review feasibility trial, i.e., users of specialist mental health services, Māori youth (with a focus on the involvement of alcohol and drugs) and men aged 25–64.
knowledge of research methods and process, particularly in relation to health and social systems
knowledge of data and information gathering systems and analysis
clinical experience in mental health and addiction services
Member selection criteria, an application for membership, and the Suicide Mortality Review Committee draft Terms of Reference can be found on the Commission website.
---
New contact phone number for SPINZ
The Mental Health Foundation's Auckland office has relocated to new premises, and our contact phone numbers have changed. The new contact phone number for suicide prevention information is (09) 623 4813.
Our new premises are at Units 109-110, Zone 23, 23 Edwin St, Mt Eden. The lending library will be available at the new site from Monday 17th February.
See our contact page for staff phone extensions and other ways to contact us.
---
Suicide prevention programme for Māori and Pacific communities launched
A new national suicide prevention programme for Māori and Pacific communities, Waka Hourua, was launched at a symposium on Māori and indigenous suicide prevention on 10 February 2014.
Governed by a leadership group chaired by Professor Sir Mason Durie, the programme will support Māori whānau, hapū, and iwi, and Pacific families and communities to develop and enhance their own capacity and capability to prevent suicide, and to respond safely and effectively if and when suicide occurs.
Waka Hourua delivers on action area 1.1 of the New Zealand Suicide Prevention Action Plan 2013-2016. The programme will be designed to increase resilience among Māori and Pacific communities, and empower those communities to prevent suicide. The programme also seeks to build leadership and knowledge through education, training, and resources that are relevant to Māori and Pacific communities.
A one-off fund of $2 million is available to support community-based suicide intervention initiatives that will help Māori and Pacific families and communities to both prevent and respond to suicide.
Suicide rates for Māori are 1.8 times higher than for Pākehā, and the rate for young Māori is 2.4 times higher than for young non-Māori, according to the latest statistics released by the Ministry of Health.
For more information about Waka Houra, or to apply for funding, visit the new Waka Hourua website or listed to Trish Davis, CEO of Te Rau Matatini, interviewed on Waatea News.
---
January
Latest official data on suicide deaths released: Suicide Facts 2011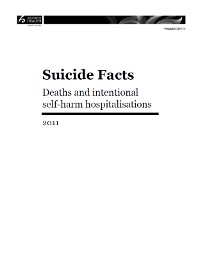 The Ministry of Health has released Suicide Facts: Deaths and intentional self-harm hospitalisations 2011.
The data show that overall, New Zealand's suicide rate was slightly lower in 2011 than in 2010, and 29.8% lower than the peak rates in the late 1990s.
The overall rate for youth suicide has continued to show an overall decline, but remains high compared with other OECD countries. Māori youth suicide rates are not showing the same downward trend, and are 2.4 times higher than for non-Māori youth.
---
We are moving to new premises
The Mental Health Foundation's Auckland office is relocating to new premises during the two weeks from 3-14 February.
Our lending library is now closed in preparation for the move.
Our new premises are at Units 109-110, Zone 23, 23 Edwin St, Mt Eden. Full library services will be available at the new site from Monday 17th February.
If you have any questions about the move, please call us on 09 300 7030 or email: resource "at" mentalhealth.org.nz
---
Help create guidelines to prevent suicide in immigrant and refugee communities
The Centre for International Mental Health (CIMH) at the University of Melbourne is seeking people with relevant expertise to help develop guidelines to prevent suicide in migrant and refugee communities. The guidelines will be designed for members of the public who are supporting people from migrant or refugee backgrounds who are experiencing suicidal thoughts or displaying suicidal behaviour.
CIMH is particularly looking for people with these three types of experience:
People from a migrant or refugee background who have seriously thought about suicide or attempted suicide in the past, or
People who have someone close to them (e.g. a close friend or family member) from a migrant or refugee background who has attempted suicide or taken his/her own life; or
Professionals who are suicide prevention experts through their clinical and/or research experience with people from a migrant or refugee background;
Participants must have an excellent understanding of suicide and its prevention among people from immigrant and/or refugee backgrounds, the signs and symptoms these people are likely to encounter, and how to respond upon recognition of these.
Participants will need to complete 3 online questionnaires. These questionnaires will probably take around 3 hours of time in total to complete.
For more information about the study, read the Plain Language Statement (PDF).
If you would like to sign up to the project, nominate someone you know, or simply find out more information, please contact:
Ms Tiffany Too
Project Officer (Mental Health in Multicultural Australia - MHiMA)
Research Assistant
Centre for International Mental Health
Melbourne School of Population and Global Health
Email: tiffany.too "at" unimelb.edu.au
Tel: +61 3 8344 3185
---
News archive: 2013 | 2012 | 2011 | 2010 | 2009 | 2008
---